Every once in a while, a teenager's life is changed thanks to the help of youth motivational speakers. These are typically people who have had to face adversity in the past, and have since managed to overcome it, and with flying colors. Instead of letting their downfalls hinder them, they have used them to their advantage.
Hearing stories like this are beneficial to teenagers and young adults because it teaches them that it is possible to overcome just about anything. No matter what problems they may be currently facing, they will eventually be able to move forward stronger and better.
Youth Motivational Speakers Can Make a Difference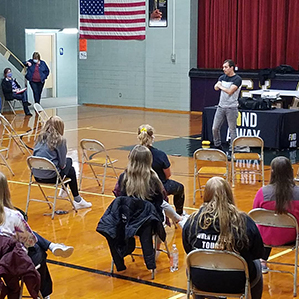 It's hard to see things from a different perspective other than your own as a teenager. That's why every now and then, it's important to have someone help open their eyes to the world around them. Someone like a youth motivational speaker.
People like Brad Hurtig are the perfect example of someone who has been able to do this through his motivational speeches. Brad has the ability to captivate audiences with his powerful story, while encouraging them to continue to move forward no matter what life throws their way.
As a result, these students go on to see things from a new perspective and have a renewed desire to continue moving forward. Why wouldn't you want to encourage that in a teenager?
Book Brad Today
If you are hoping to make a difference in the lives of your teens and young adults, hire Brad to come and talk to them. His story will help them see that even without a set of hands, you can grow to become successful and an inspiration to others.
Contact us today to figure out a date that works best for you. Brad is proud to be a member of the Relevant Speakers Network.